Summa
a
posted
Jul 25, 14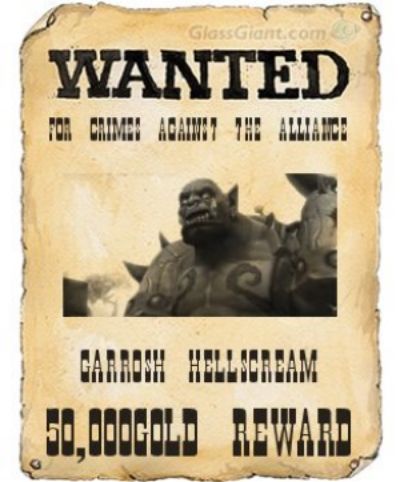 Hota is offering a bounty on Garrosh's head of 50,000 gold to the team that can finally down him on normal 10 man before WoD. Split between the team this will mean a bounty of 5k per team member.
1. It must be a guild group, so must have at least 8 members of the guild in it.
2. If you wish to take part, please register your team on this site, just the names will do.
3. We want to see screenshots of the kill.
4. The team must not interfere with any scheduled raids.
5. But after our raid on Friday, there are at least four days until reset of raids, so plenty of time to form your group to kill Garrosh.
6. You may use saves from guild raids to achieve the Garrosh kill.
4. The first team to get us this kill and give Hota a full clear in 10 man normal before WoD, will receive the bounty.
If you have any queries, please whisper myself or an officer ingame.
Happy hunting.